WHEN THEY CAME HOME LATER THAT DAY THEY THOUGHT WE HAD REBUILT THEIR DECK. THE HOUSE SOLD IN 2 DAYS, ABOVE THEIR ASKING PRICE!!!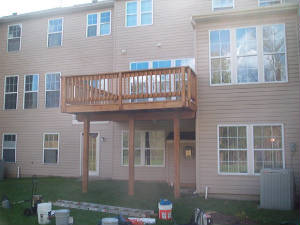 OLD STAIN REMOVED TO RESTORE THE SOUTHERN YELLOW PINE DECKING
FINISHED DECK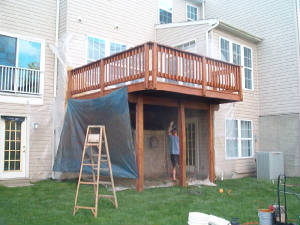 YOUR HOUSE IS PROTECTED FROM OVERSPRAY BY PLASTIC AND A LOW PRESSURE SPRAY SYSTEM. WE WORK BEHIND MANY COMPANIES WHO HAVE RUINED SIDING WITH CARELESS STAINING. SOME HOMEOWNERS HAVE ALSO TRIED THE DO-IT-YOURSELF APPROACH AND GET STAIN ALL OVER THEIR HOMES.